Meet April the adorable Mini!
"I'm so glad I found Beth Lewis as a farrier. I could hardly clean my mini horses hooves. My farrier I had before didn't seem to know too much about horses and told me "Probably can't touch her back feet because of an old injury". After trying Beth I am never using anyone else but her! My 3 year old can even clean her hooves now with no issue! Also, she has been a big help with proper care/Health with her. Never met a farrier this amazing! Always on time and never backs out of appointment! My horse now walks amazing after being trimmed correctly!" -Bill and Lisa Richards, Hooksett, NH

---
Meet Ali and Narganza!
"I can honestly say that Beth is hands down the most informative professional farrier I have ever worked with. I found a review or two online and decided that we would give her a try. I'm sure most of you have had the typical experience of farriers that you may have used for
years not return your calls, not schedule or keep the next appointment and often times we are left waiting for literally hours on their arrival. For the first time Beth as our farrier actually confirms our appointments, follows up with emails and phone calls and even gives out a business card for the next appointment. That is just for the business side of things!

For those of you who want to know as much as possible about your horse, I don't care how long you have been involved with or owned horses you will learn even more about your horses' feet and more. If you don't want to know so much, she respects that too, just let her
know. Personally, I am impressed with her knowledge and skill level. She knows how to handle
your fussy horse calmly, quietly and patiently. Our horses who are all barefoot with large strong feet started to chip due to previous less than thorough trimming and since Beth took over
they are already back to whole rounded healthy hooves from the first visit. She will tell you what she sees, what she is doing and evaluate the movement of the horse after the fact, you will see a difference in the way your horse moves and she will point that out to you in detail.
We are SO happy with Beth!!!!" -Stephanie and Dan Wallace Blue Sky Stables Somersworth, NH

---
Meet Sunapee!
"Sunapee (Sunny) is a 10 year old OTTB who had all the well known hoof problems caused by early shoeing and hard use including: thin walls, thin soles, hoof capsule distortion, and a slight "ski tip" on the P3 bone of his "bad foot". Beth has been Sunny's farrier for 6 months and she has successfully analyzed his problems, applied her hoof knowledge, and tried different shoeing and trimming techniques until she found the solution that works for him. As a consequence, Sunny's feet are the best that they have been at any time in the 6 years I have owned him. Beth is a true professional and I would recommend her to anyone, but especially for horses with problem feet. (Sorry Beth, I didn't mean to send all the hard cases to you!)" -Lorraine from Raymond, NH


UPDATE 2014! Sunny had a checkup and the vet reported his feet look normal and he is sound. He is in front shoes, PLR's with frog support. It has been an honor working on Sunny and returning him to soundness. It has been great being part of his team! -Beth


---
Meet Maebel and Charlie!

"Hi Beth, I just wanted to update you on how we've been doing since your visit. The short answer is - great! Charlie is so comfortable with the tweaks that we made to his trim that I've been able to ride him completely barefoot. I'm not having any trouble following the pattern you set for me in his touch ups. I re did the casts on Maebel a couple of weeks ago with no problem. She rode off the first set so removing them was no trouble - same with the second set. The really cool thing is the change in her feet. She has a much better sole callous on the toe, greater concavity, and her frogs seem to be bulking up in front. There was almost no flare when I trimmed her this weekend. She did have some slight flaring and separation in the quarters on her front feet. I rolled those a bit more this time to see if that would help them to tighten up. I hope that was the right decision. I guess her foot will tell me. Thanks again for your help! I feel like I'm on the right track now." -Chelle from Lebanon, NH


-I was asked to give a trimming and casting clinic for Chelle, she was well on her way to good hoof health but had some questions that could not be addressed without some hands on instruction. I spent the day and we really had some fun working on her delightful horses!
---
Meet Scotty!
"This movement is all due to the excellent farrier services of Beth Lynn Lewis! We haven't got an extension like this in a long, long time!" - Facebook


Beth is by far the best farrier I've ever had the pleasure of working with. She's friendly, caring, professional, knowledgable, and always willing to pass some of that knowledge down. She has kept my horse's feet perfect and shown me all the ways that his feet have improved. I highly recommend her to everyone. Her farrier science is far more advanced than the old school farrier styles, typically more common in the New England area. I love having Beth work on my horse. Ill never use another farrier. Laura, Portsmouth, NH

---
Meet Centerfold!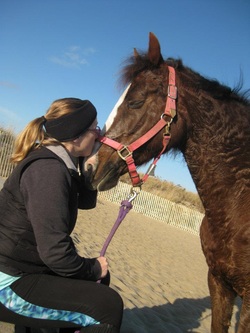 "I have been using Beth since October for my Morgan mare. Beth does a great job with her, and is always willing to discuss what she is doing and why. She is very informative and knowledgeable and a real pleasure to deal with. My mare loves her, so do I!" -Joyce from Newton, NH

---
Meet Tjeerd!!
"I met Beth from a friend who was very happy with her farrier services, at the time my horse was having an issue with White Line separation. I was trying to keep him barefoot, but the dirt and bacteria were building up in his feet. Beth has come for two trimmings, and it is early yet, but I see a difference already! The white line separation is diminishing! I like her promptness, my horse likes nibbling her butt, as you can see, we are all happy!! Thanks, Beth!" -Terry from Tamworth, NH

---
Meet Ronin, Windy & Brewin!
"My horses and I BOTH love Beth and her friendly personality, her professionalism and attention to detail. She shares with you the owner every step she does. She actively asks you of any concerns for your horses movement, hoof issues or any input you have; shes very open to the owners opinion. She's 100% for the horses happiness, comfort and well being and that is very important to me! I can't stress how happy we are to have Beth work on our horses, You can't go wrong" -Heather Tower, Ronin, Windy & Brewin, from Farmington NH
---
Meet Gaelic!
"I found Beth after my 6 yr old, 18+hh Belgian Warmblood, Gaelic, came up slightly lame and my vet suggested that it could be an issue with his feet. I always trusted the farrier I was using and thought everything was fine. After having my vet and Beth come out for Gaelic, I discovered everything wasn't fine. He had corns and bruising among other issues caused by ill fitted shoes. I've been riding and competing all my life and always thought I was educated about all aspects of the horse, however I was not well educated with the hoof. I can honestly say that I am now; Beth has been great about getting Gaelic back to being sound in just a couple of shoeings! She's helped educate me and gave me hope that Gaelic may still be my event horse! She's always been great about getting back to me when I have a question or coming right out if the "little man" has lost a shoe. Being an event rider, I know how tough the sport is on the horse and their feet. I'm confident that I have found the right farrier to help me bring Gaelic along and keep him sound!!" -Kelly from Hampsted NH

---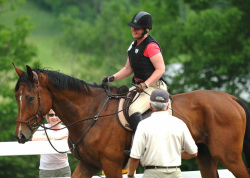 Meet Ghost!
"I started using Beth as my trimmer last year and couldn't be more pleased. She has been excellent! Beth is intelligent, extremely knowledgeable, punctual, friendly and just plain awesome. She will also take the time to explain things so that you understand. I like that. My horses' feet look great and I plan on continuing to use her for as long as I can"
-Jacqui From Weare, NH

---
Meet Story!
I got my horse Story 7 years ago, and decided I would just use the farrier that already came to do the horse's feet at the barn where I was boarding. Last May, I lost one of my horses due to founder, and the way my farrier handled the situation was somewhat less than ideal, so I decided to look for a new farrier. I got Beth's name and number from my vet at the time, and I liked her instantly. She is professional, kind, patient, and most important, knowledgeable. Also, having lived through the nightmare of my beloved mare foundering, the fact that Beth specializes in founder was such a relief.

On her first visit, she pointed out all the things that were wrong with Story's shoes, and told me that she recommended leaving him barefoot for a while to see how he did. Not only did she save me money, but it turns out my horse does AWESOME barefoot! Although Beth would have made more money saying that my horse should have shoes, she does what is best for the horse, not for her pocket. Before Beth, I frequently had problems with my horse cross cantering, and she told me his hind hooves were not balanced, which may be the cause of the problem. After just a few visits, I no longer had ANY problems with leads, and my horse feels amazing every time I ride him. I wish I had found Beth sooner, and I urge anyone looking for a farrier to call her. She is THE BEST!

Emily Paquette

Pelham NH


---
Meet Rebel!
Rebel became a part of my family in September of 2012. When he first arrived home, his feet were flared out and squared off. I began to worry that he might need to have shoes put on in order to become the jumper I hoped for. When Beth first arrived to the farm she asked me to walk and trot him so she could assess where he was at and where to go with his hooves. Then the fun began… Rebel had nearly years off from any consistent work prior to him becoming my new teammate. He was also 6 years old at the time. He also came from a rescue before that. He wasn't the best-behaved animal shall we say. Beth remained cool and calm, talking with Rebel and working with him until she successfully and safely trimmed all four feet with high hopes of keeping him barefoot and explaining to me her plan of attack. That day I was also given a bit of homework from Beth to help address his bad habits (rearing and kicking out). Our last trim was our best behaved trim to date! And if Beth's tips on how to correct these problems aren't good enough, I would just like to say that Rebel is now jumping 2'6 fences barefoot and sound!! Her knowledge and expertise is extensive and she takes all the time in the world to make sure that you completely understand what is going on with your horse's feet. She's fantastic at responding to phone calls and e-mails, answering questions thoroughly. And if all that isn't great enough, I would like to say I truly haven't gotten sick of people telling me how amazing my horse's feet are! Rebel and I truly thank you for all the hard work you have done and countless questions you have answered!
Casey, Salem, NH

---
Meet Dreamer, Bubbles, Angel, Breezy, and Bess!!!


Beth was recommended to me from a friend who loved Beth's work and ability with the horses! My horses all love Beth, as she is just amazing!! Dreamer and Breezy can be kind of naughty for getting their hooves done, but not with Beth! They know that they are in the best hands, so they, now, always behave for her! Dreamer and Bubbles are full size and Angel, Breezy, and Bess are minis-Beth is amazing with all of them! She really cares about the horses, not just their hooves but the horses in general! If you are looking for the most amazing farrier ever, seek no more! You are searching for Beth Lynn Lewis! I would recommend her to everyone, she is really the best around!!! Thanks Beth!
-Meghan Kilroy, Dreamer, Bubbles, Angel, Breezy, and Bess from Wakefield, NH

---
Meet Chip and Chevy!!
Beth has been instrumental in upping our game for the hoof health of our two horses; we're lucky to have her working with them.

Chevy came to us with flat feet and long toes, both impacting his comfort and performance under saddle. Added to this, Chevy doesn't love to have his feet worked on, so this previously limited the ability to dig in for an in depth trim and shoe. Beth has been so patient with him and we've been able to figure out a best-practice for him. His toes are in tip top shape now and he's noticeably smoother and more comfortable to ride.

Our second horse, Chip, spent an extended period of time as a pasture pet receiving minimal hoof care from his previous owner. He came with severe thrush and a club foot. Beth worked with us and our vet to address these issues promptly so we could get him back into work. Within 3 weeks, we had him sound and at a local horse show and his hoof health has continued to improve over the last year. Recently, Beth worked with us to address a soundness issue with Chip, as he developed an abscess one week before a big horse show. Beth came to the rescue, locating and draining the abscess, and Chip was 100% sound in time for the show.

We recommend Beth to anyone looking for a quality farrier. She's up to date on all the newest methods and materials, and is thoughtful in her approach to hoof care. We look forward to having Beth work with our two guys for many years to come!! -Pam from Goffstown, NH

---
Meet Finn!!



It was just about a year ago that our former farrier pulled off Finn's shoes and said "this doesn't look good."
Suspecting White Line Disease, he left us with a severe debridement and one very uncomfortable, unshod Haflinger. That evening, fearing the worst, I sent an email to Beth, who had come highly recommended. We couldn't have made a better decision.

Beth came out that weekend and spent over two hours answering our countless questions, giving her expertise, offering options, and getting to know Finnegan. It was then we knew she was unlike any other farrier we'd ever worked with.

It's clear that this is more than a business to Beth-- it's her life's passion. The time she spends making our horses comfortable, the thoughtful follow-up emails and texts and overall genuine concern for their wellbeing is unrivaled— not to mention the continuing education she pursues to stay on top of advances in her field.

In 9 months of consistent service from Beth, we have a whole new hoof. Finnegan is sound and happy -- sporting nailed-on front shoes that keep him happily trotting on asphalt, pulling logs through fields, or jumping in arena footing.

We heartily recommend Beth from Equibalance Farrier Services to anyone who should be so lucky to work with her. She has been a game-changer for Finnegan and has provided top-notch service for the 2 other horses at our farm.

Alyssa & Jed Holdeman
Barrington, NH
(and Finnegan, 12-year old Haflinger.)
---
---
Meet Eclipse!



Beth came highly recommended to me by a friend. I have a 26 yr old who has some arthritis in her hind and was uncomfortable at best even on cosequin and MSM. I decided to give a new approach a try. Beth came out and was here for several hours and explained everything in detail what she saw and how she felt she couldfix it. She was very patient with my girl and explained everything as she went along. We saw improvements in my paint after her very FIRST time working on her feet. My girl was walking toe to heal and after trimming was walking more flat or heal to toe. My horse now is much more comfortable. We see such a marked improvement in her level of pain. We were ready to retire her from riding completely and since Beth we are now able to ride again. My Eclipse loves the trails she now has pep in her step to enjoy them again! Thank you Beth for giving Eclipse her new lease on life! Our 26 year old is now acting 12 and couldn't be happier! We can't thank you enough!


Michelle and Lee, Weare NH
---