Beth attended the 2013 Lameness Conference!
---
I will be hosting a few different clinics for 2014. Please contact me if you have an interest in participating in what we have going on.
Equibalancefarrier@gmail.com
Hoof Care Educational Lecture:


Please email for more details and to express an interest in attending. The proceeds from the clinic will go to Becky's Gift or to the rescue where the lecture will be held. I will be discussing Anatomy, Pathology, Conformation, Hoof Mapping, Hoof Balance and ratios, Angular Gait Deformities, Gait Evaluation, Syndromes & Diseases along with what to look for in a good trim/shoeing plus Hoof Casting and boot fitting. If you would like to host one at your own farm or horse club group, just ask!

Riding Clinics:

Kim Walnes of Pennsylvania
Kim competed on her legendary partner The Gray Goose in Europe and the US as a member of the US Equestrian Team from 1980 to 1986. Her career hightlights include winning team and individual bronze medals at the World 3-Day Event Champs. in Luhmuhlan, Ger. and winning at Rolex. She travels throughout the US as an instructor and coach. Kim has studied under such greats as Jack LaGoff, Sally Swift, Bert deNemethy, George Morris, Linda Tellington-Jones, Anne Kursinski, Melanie Smith Taylor, Pam Goodrich, Gunnar Ostergaard, Jessica Ransehousen, Betsy Steiner, Bettina Drummond, and currently with Col. Christian Carde.
In December of 2012, The Gray Goose, by a unanimous vote of the Board of the US Eventing Association (USEA), will be inducted to the USEA Hall of Fame Please visit Kim's website for more information.
The Way of the Horse
Please Contact me if you would like to host Kim at your farm or if you would like to suggest a place and a date. We are currently signing up riders and auditors.
---
Veterinarians: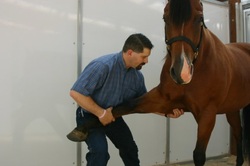 Dr. Mark Depaolo of
Depaolo Equine Concepts
Specializes in whole horse treatment by using Acupuncture and Chiropractic techniques to assist you getting the best health and fitness out of your horse. He uses tools such as Hair Analysis to insure your horse performs at their peak. "Horse Hair Analysis® provides an extremely accurate profile of a horse's biochemistry. With Horse Hair Analysis®, not only will you get an in depth report of your horse's levels of 18 critical minerals and toxic metals, you will receive a recommendation for a custom made supplement designed specifically to help your horse. If toxic levels of metals are detected, a detoxification program will be prescribed. Only bio-available ingredients are included in the HHA® Personal Supplement to allow the horse to reach its maximum potential." Dr. Depaolo will fly to New England if we can have 12 horses scheduled for him.
---
Farriers:

Brad Erickson of Forks, Washington
Brad will be back in New Hampshire at some point! Please contact Beth for a booking! Brad is a Mission Farrier School graduate who previously had a full clientele in NH. Beth and Brad will be teaming up to bring you the best in horse shoeing we can offer to our clients!
Braderickson.com
---




Please contact Beth Lewis of Equibalance Farrier Services if you are interested in what we have to offer and to be included on the sign up sheet so we can start planning dates or if you would like to host any of our wonderful Clinicians!